IN-GROUND POOL LINERS BY LATHAM

MORE CHOICES, MORE EXCLUSIVES
Latham in-ground liners are available in 20 and 27 Mil material. Through our family of brands, Latham offers over 30 different elegant and exciting liner designs – the majority of which are created by our team of designers and are exclusive to Latham.


FAST DELIVERY
As Canada's largest state-of-the-art liner manufacturer, Latham strives for the fastest turnaround of liners in the industry. Having multiple manufacturing locations also results in lower shipping costs for you.


EXCLUSIVE ULTRA-SEAM ™
With standard vinyl pool liners, the seams on the pool floor are visible. Latham's exclusive Ultra-Seam ™ process makes floor seams stronger and virtually invisible. No more visible lines on the floor detracting from the beauty of the pool!




Download Latham Liner Brochure




VINYL LINER PATTERN SELECTION

Liners are available in numerous patterns. Choosing one you enjoy is important since the liner defines the look and feel of your pool.




**All Vinyl liner graphics are for illustration purposes only. It is recommended by the manufacturer to view an actual sample before ordering your liner. Color may vary from what appears below. Manufacturer reserves the right to change liner selections without notice.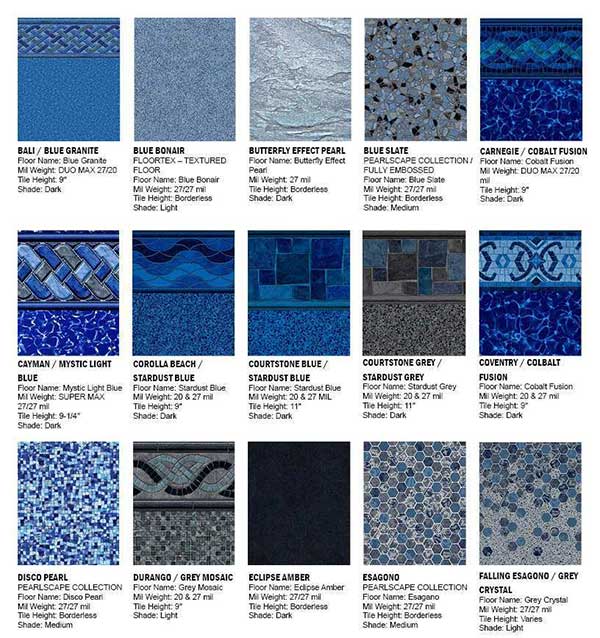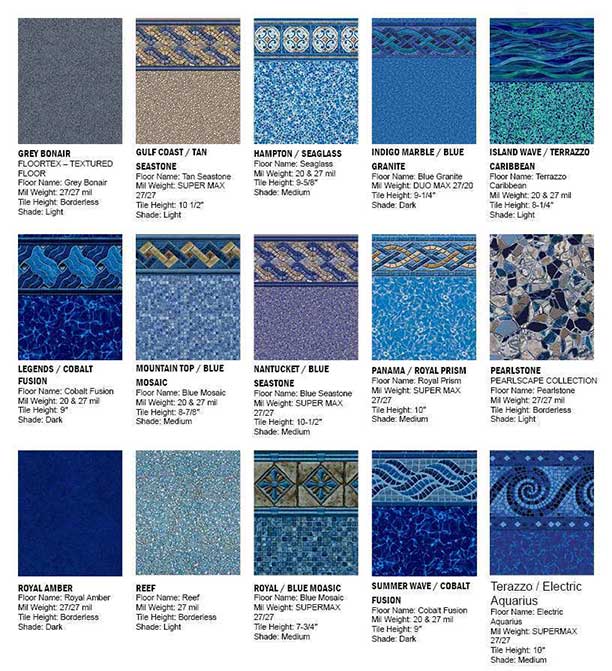 Vinyl Liner Floor Pattern Selection
All floor patterns are available as "Full print liners" (no tile borders).
All floor patterns are available in tread-TEX for use on vinyl over step applications.